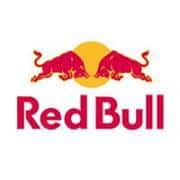 Red Bull, the first energy drink, was virtually unknown in the United States at the time. Functional beverages weren't yet "a thing." Averaging $2 at retail, Red Bull had a retail price point much higher than consumers in the U.S. were accustomed to paying, especially for a beverage that, at first glance, seemed like just another soft drink.
As Director of Consumer Development for Red Bull North America, Linda led consumer marketing staff in developing strategies and high impact programs to build awareness, demand, and a sizeable loyal user base. Key to this was educating consumers about product benefits in a highly credible way, and building an emotional connection with consumers. Doing this well would foster loyalty, legitimize the price point, and build significant buzz.
Linda managed the development of a powerful sampling and consumer education program now known as the "Wings Team," growing it to over 100 teams and 1000 employees throughout the country.  One of the key tools of this program was the Red Bull car with the giant Red Bull can on top. Sampling teams drove it to targeted locations where people were likely to have an immediate need for energy, endurance or mental focus, educate them about the product in a highly engaging way, and give them a full, cold can to try to experience the benefits for themselves.
Linda developed and implemented a general market and Hispanic media plan, and, as part of this, guided creative development for several Red Bull ads.  She also guided the growth of the collegiate marketing program with ultimately over 250 student brand managers who spread their passion for the brand and created substantial product usage at their campuses.
As one of the key leaders in developing Red Bull into a successful brand in the U.S., Linda also played an instrumental role in company-wide recruiting and training efforts.
Red Bull Energy Drink grew from being virtually unknown in the U.S. to delivering over domestic retail sales of more than $400 million

Linda's work paved the way for programs that are still instrumental to brand growth to this day